Best Brands of Face Paint
Best Brands of Face Paint | Fort Collins, Loveland, Windsor Colorado
Every kid has a great time when they get to have a beautiful design with face paint! Summer is the perfect time to have a face painting party but it is important to know the best brands of face paint to use. The weather is warm making it super easy to host a face painting party outside. By hosting a party outside, kids can run and touch anything they want and parents don't have to worry about paint being accidentally smeared across the living room wall.  Face paint is so fun and there are beautiful face paint designs, but it also important to be knowledge about what type of face paint is used. Hiring a professional to paint guests faces may seem like a sure way to get a professional grade face paint but it never hurts to be aware of the different kids of face paint offered. By knowing what type of face paint to use on children is the first step in having an awesome face painting party! Here are a few of the best face paint brands to use.
Best Brands of Face Paint
Blue Squid Face Paint
Blue Squid Face Paint is one of the best brands of face paint. It is a water based formula which is much better for skin. Not only are all of the products water-based, but they are all hypoallergenic. Isn't that simply amazing?! There are so many colors to choose from from this company. In addition to every color in the rainbow, this company also offers glitter paint as well. How cool is that?
The only thing that could make a face paint brand better is a little sparkle and Blue Squid Face Paint does just that! Another great thing about this best face paint brand is that all of the ingredients have the approval of the FDA. This is one of the best brands of face paint to use because it won't harm small children's skin. Check out their awesome website to purchases their products. 
Their face painting kits include stencils, brushes and many colors. There website says that their 12×10 ml color palette holds enough face paint to paint over 100 faces. That is hours upon hours, and days upon days of pure face painting fun! The paints come in sturdy containers that can be reused long after the face paint is gone. Customers definitely get what they pay for with this product. Purchase this product on Amazon and is even available through Amazon Prime. To purchase this product, click here.
Snazaroo Face Paint
Another one of the best brands of face paint is Snazaroo face paint! This brand is one of the most kid friendly, environment friendly and skin friendly paints on the market. This is by far one of the best brands of face paint because of it a very high quality face paint. This is a water based face paint making this paint super easy to take on and off. Nothing more than soap and warm water will take this paint of easily! No scrapping, scrubbing or harsh removers required.
Additionally, Snazaroo is one of the best brands of face paint is because this company is dedicated to making their face paint the safest for children's sensitive and delicate skin. Also, all paints are fragrant free and paraben free too. Another reason why Snazaroo is one of the best brands of face paint is because an independent professor of dermatology as well a professional toxicologists test the face paint. How wonderful is that?
Although, Snazaroo is one of the best brands of face paint, it is still best to swap a color of paint on the inside of the elbow to be sure that there isn't any harmful reaction from the skin. Snazaroo face paint is one of the best brands of face paint for many reasons! Check out their website for a full list of products and more information about the paint. Their website has so many great ideas on how to face paint! Additionally, their website offers tips and tricks on how to use Snazaroo Face Paint.
Natural Face Paint Kit from Natural Earth Paints
It seems to be hard to find an all natural item these days but this natural face paint kit from Natural Earth Paint's is just as promised in the title. Another one of the best brands of face paint is this brand. The ingredients are all organic and natural in this natural face paint. This face paint is great because it is real ingredients with the durability of other face paints. It is a clay and mineral based formula. The website says that this is a face paint mixture based off of the original body paint that humans used many thousands of years ago. It is a certified non toxic paint and the website lists all of the ingredients that are in this product. There are no hard to read chemicals at all listed with this product.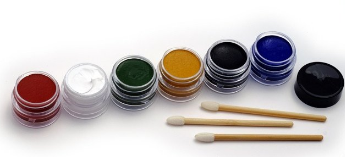 Another reason why this is one of the best brands of face paint is because it includes nourishing products such as shea butter and carageenan seaweed. This is one of the best brands of face paint because it helps the skin while users display a beautiful face paint design. Check out the rest of Natural Earth Paints products and purchase their face paint sets here. They sell a regular kit, a mini kit and individual colors as well. This brand also offers eco-friendly applicators as well.
CC Beauty Professional Face Paint
Another of the the best brands of face paint is by CC Beauty. This is more professional line of face paint. It can be kid friendly but it is better to be for adults. This is an oil-based formula, not a water-based one. The oil-base allows for this paint to stay on longer and not to not fade or lose color during the day. This allows for the user to keep this face paint on for long periods of time or for large events. This is great for Halloween, different themed parties, plays and other events.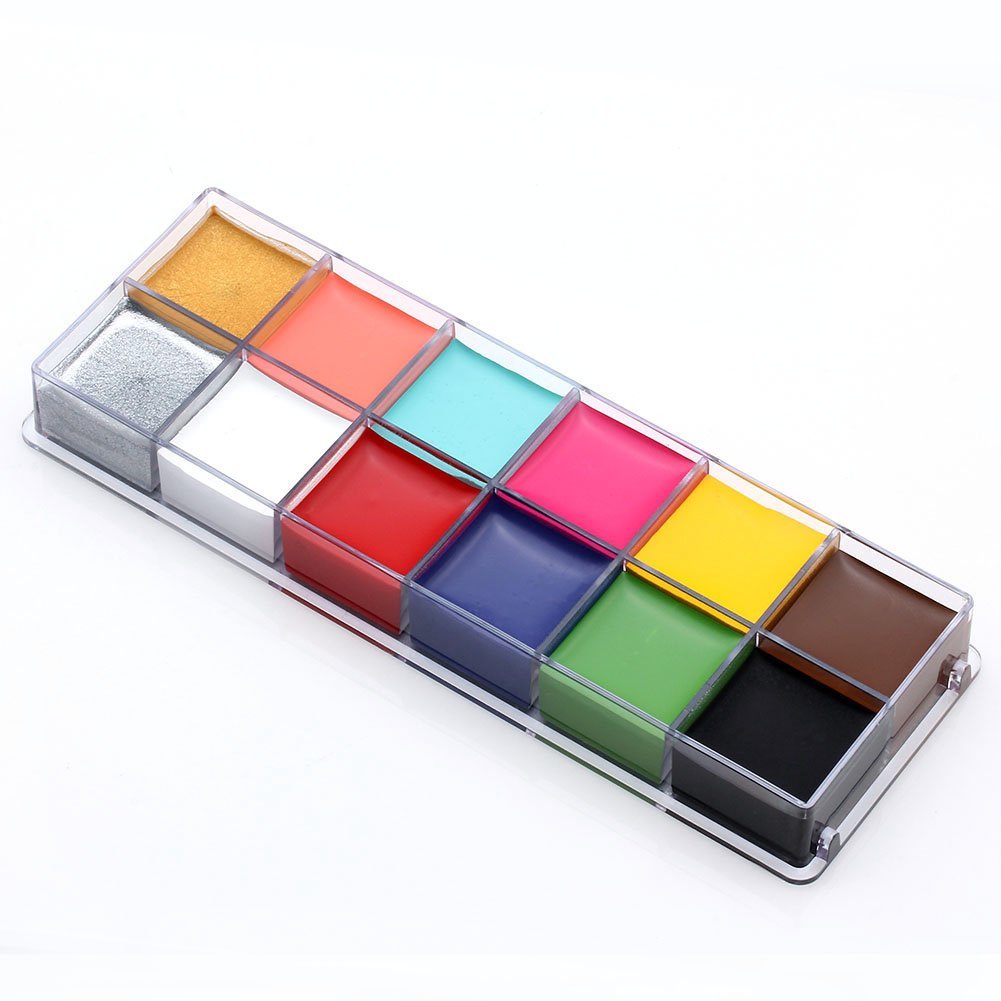 This product is one of the best brands of face paint because it formulated to last a long time. This is a cosmetic grade face paint that can be apart of any costume or look. Not only can it be a face paint but it works great as a body paint as well. Additionally, this is one of the best brands of face paint because it allows for the user to showcase their imagination. CC Beauty Professional Face Paint is the perfect medium to show off the users artistic skills. Find this brand of face paint on Amazon or by clicking this link.
Face Paint Crayons
Lets face it, face paint can be messy. There are so many different sponges, brushes and stencils that are apart of the face painting process. Another one of the best race paint brands don't involve brushes or sponges at all. Face Paint Crayons by Love Arts and Crafts are the perfect solution for avoiding the mess and hassle that comes along with traditional face painting.These face paint crayon sticks are easy to use and require very little supervision. Older children would be able to uses these face paint sticks easily. No need to clean brushes and other painting materials with these great face paint crayons. This is a water-based paint that are non-toxic and safe to use. Find another brand of face paint here.
DIY Face Paint
Face paint is so easy to purchases online or at the store but it is just as easy to make! By making your own face paint it completely eliminates the possibility using something users might not want to use on their own faces. There are so many great instructions on how to make  face paint from items that can be found in the kitchen. Mommypotamus has a great tutorial that can be found here. It is so easy to make and a perfect indoor activity for small kiddos!
Craft Paint as Face Paint?
Craft paint and acrylic paint is NOT safe for the users skin! You wouldn't want to eat this type of paint, why would you put it on your body? Not only is this type of paint harmful for the user skin, it wouldn't work well as a face paint. There is paint that is made for crafts and there is paint made for your skin. It is important to know the difference and only use the proper materials!
We love to see different face paint creations! Drop us a comment or leave a picture. We can wait to see what you all design. Happy painting!!