Top Ten Henna Tattoo Designs
Top Ten Henna Tattoo Designs | In Fort Collins, Loveland and Colorado
Now that summer is in full swing, it is the perfect time for some beautiful henna tattoo designs. These tattoos can be elaborate and detailed, or simplistic. Either way, henna tattoo designs are a great way to show off some artistic talent in the summer heat. The best part about henna tattoo designs is that these designs can be specifically designed for the individual. Love flowers, hate polk-a-dots? No worries, create a henna tattoo just for you! A henna tattoo design is so elegant and pretty. The hardest part is deciding what pattern or design to start with. We put together a list of the top ten henna tattoo designs for a little bit of inspiration! These designs can be modified to fit your individual style.
Simple Floral Henna Tattoo Design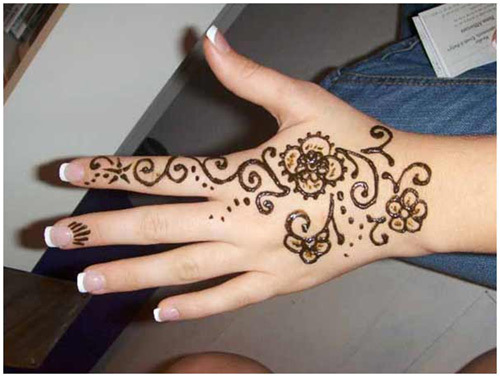 This design is perfect for any henna artist that is just starting out. This henna tattoo design is simple but still beautiful. A design like this will look amazing on anyone's hands. A henna tattoo like this can be created to be specific to each person. The flowers can be made big and take up the entire hand or small to fit just one section of a persons hand. The different sized lines can really add depth and character to this henna tattoo design. This henna tattoo design is amazing because it can be mirrored. Rather than the design going up the pointer finger, it could easily go up the pinky or ring finger.
One Finger Henna Tattoo Design
Maybe henna tattoo designs are not really "your thing" don't worry! This henna tattoo design is so dainty and elegant everyone will love it. A design like this is only done on the finger of the participants choosing. This henna tattoo design is perfect for those wanting henna that isn't very flashy and doesn't attract too much attention.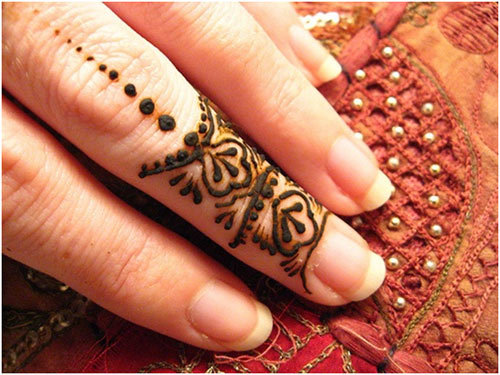 The lines and dots can be rearranged to the participant's personal preference. This design is a little tricky to recreate because it is so small and has very many details. With practice and patience, it is quite possible to master this delicate henna tattoo design!  
Detailed Hand Henna Tattoo Design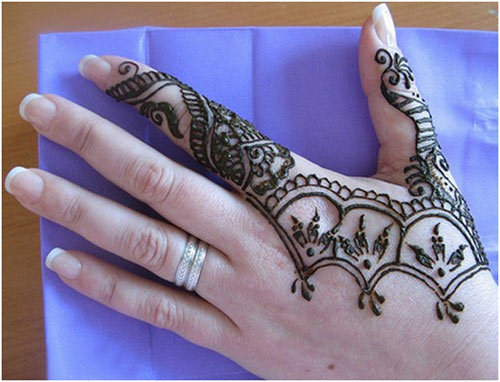 A henna tattoo design like this one looks tricky but isn't as scary as it looks! It is mainly dots, lines that are joined connected, curvy lines and more dots! It is as simple as that. A design like this looks great on a thumb and pointer finger but could be redesigned to fit different fingers as well. This design is a perfect accessory to any individual looking to add some spice to their everyday. This henna tattoo design looks wonderful on everyone. Additionally, this design complements rings worn by the participant. This henna tattoo design may look challenging but is a stunning piece with finished.
Both Hands Henna Tattoo Design
Henna tattoo designs don't have to be limited to just one hand, create a design on both hands for an extra special look. This design is quite simple to do and isn't very big which makes this design perfect for beginners.To make this design more challenging, add more detail and make the design bigger. The trickiest part about a design on both hands is making sure the designs are symmetrical but designs that are one of a kind are beautiful as well. The great thing about this design, is that it can be done on any sized hands. It will look adorable on small hands and beautiful on an adult as well.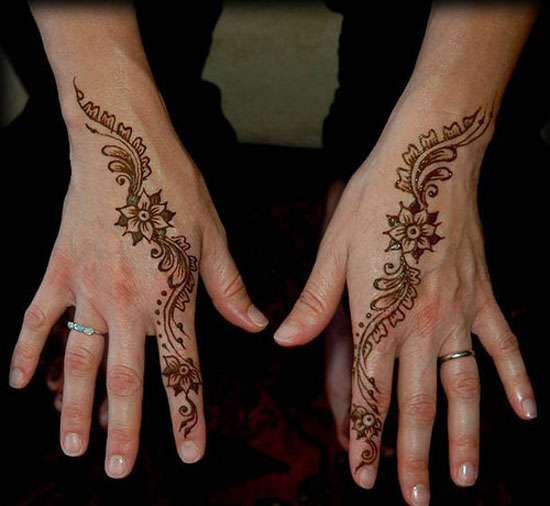 Wrist Henna Tattoo Design
Henna tattoos don't have to be only on an individual's hands. Check out this beautiful henna tattoo design on the inside of someone's wrist. This is a stunning design that is simple and easy to create. Artists can create this look by using sharp lines, loops and half circles. Little dots help to add detail and creativity to this look. Placing a henna tattoo design on the inside of the wrist is a fun way to show off a fun tattoo. It is like getting a beautiful and fun surprise each time the individual moves their arm. Imagine how beautiful this wrist design would be with silver bangles!
Inside of the Foot Design
These tattoo designs are not just for the hands! The henna tattoo designs look beautiful on the inside of the foot as well! Check out this pretty design! The detail is stunning This design is easy to create and it includes flowers, lines and dots.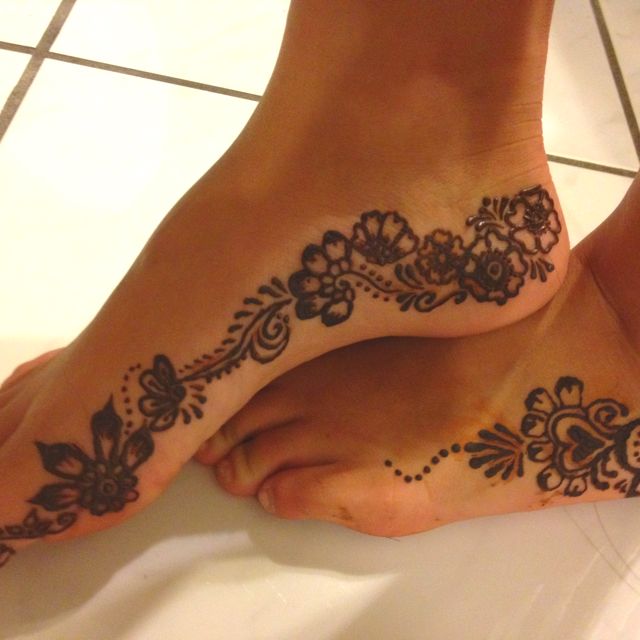 A design like this is great for any level of henna artist. A more advanced artist can add more detail and smaller designs while the beginner artist can use basic shapes. Either way, this design will turn out exquisite. 
The hardest part about this design is not walking anywhere so that the individual doesn't smudge the design. This design will look stunning on anyone! It could be a go to design for someone who isn't sure what they want in a henna tattoo or a first time recipient of a henna tattoo.
Ankle Henna Tattoo Design
Who said henna tattoo designs were just for hands and feet? Henna can easily be placed on the ankle as well and looks just as great! Placing henna tattoos on the ankle is great because it still allows the individual to still wear shoes and walk around where some henna designs on a foot might not allow the individual to do that. This design is fairly easy to do. Start with a branch and leaf like pattern that goes around the entire ankle. Create the design to extend a little onto the top part of the foot. Afterwards, fill in the extra and empty space with flowers, leaves and dots. Finish the artwork with extra details to create a unique design!
Foot and Ankle Design
Have the best of both world with a henna tattoo design that goes both on the ankle down the foot as far down as the toes. A design like this can be a little tricky but can still be created! Start with the main shape of the design on the top of the foot. Afterwards, draw the small details and other shapes into the pattern. Creating thick ad thin lines will help this design to come to life. The size of the lines will also trick viewers into thinking the pattern is more elaborate which is a win win for everyone. Don't worry if it isn't perfect! Henna is an art form that is beautiful no matter what.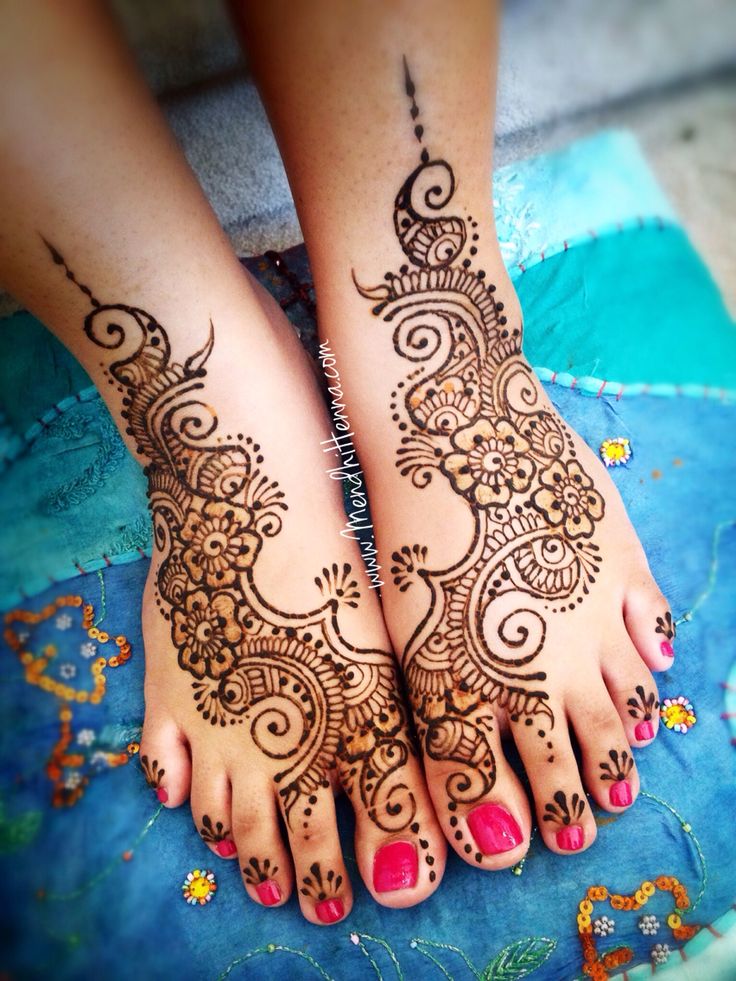 Back Henna Design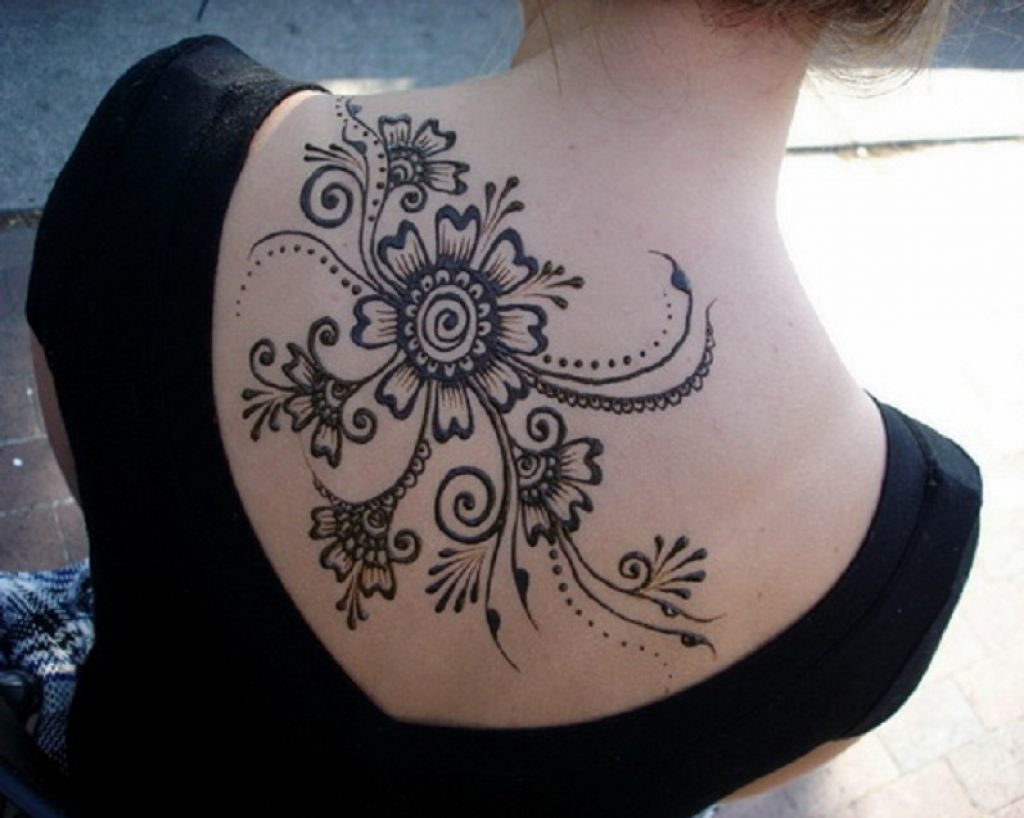 Another great henna tattoo design would be to add a large floral and swirly pattern on an individual's back. This is the perfect place to experiment with larger designs and patterns. A design like this is so simple that even a first time henna artist could create this pattern. First create a focal point such as a flower or sun. After branch out in different directions with swirls, leaves, flowers and more designs. Adding small lines and dots will help to make this design look even more detailed without much extra work. This is a great design to become very creative. Add as much or as little detail as desired. A henna tattoo design like this can be an eye-catching piece of artwork that many will enjoy.
Lower Leg Henna Tattoo Design
As an artist, sometimes it might be needed to take a risk. Take a risk on designing a henna tattoo that extends all the way up and around someone's calf. This design can be absolutely stunning! Check out this henna tattoo design for example. The simple flower and leaf pattern looks beautiful! First start with a focal point such as a sun, animal, or flower. Then add detail that extends all the way up and down the calf muscle. Afterwards, to complete the look, add lines, dots and leafs.  Pretty soon the entire lower leg will be covered in a gorgeous henna tattoo design.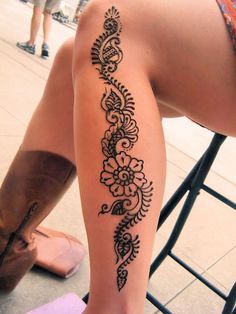 Henna is a wonderful way to become a little creative, showcase artistic talents and to just some have fun. Some designs might be a little challenging and knowing where to start can be intimidating but the key is to just start! The only way to become better is to keep doing. These designs are great inspiration for when you are not sure where to begin. All of these henna tattoo designs can be extended for the more advanced user as well. These henna tattoo designs are great examples of what kind of artwork that could be created using henna. The sky is really the limit on what an artist can create! Use your imagination and gut feeling to create stunning henna designs. We would love to see what you come up with! Drop us a picture or a comment below about your own henna tattoo designs.